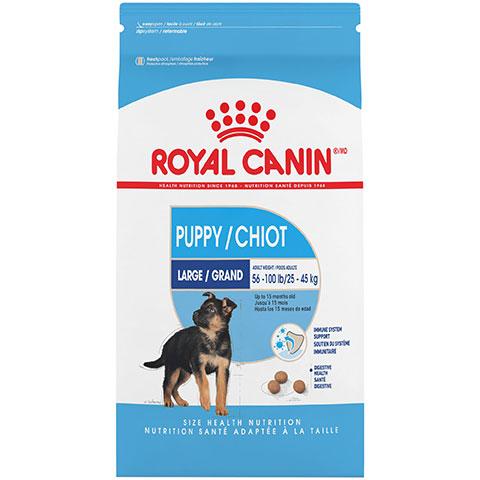 Royal Canin Size Health Nutrition Large Puppy Dry Dog Food
Your large breed puppy has big nutritional needs. That's because large dogs have a longer growth period than smaller ones. As they grow, they can multiply their birth weight by an impressive 70 to 90 times! Then later, as adults, large breed dogs are more at risk of developing bone and joint issues. That's why they need optimum nutrition early on, to develop strong muscles and bones that will support their large bodies throughout their lives.
Royal Canin Large Puppy dry dog food is wholesome puppy food that gives your big pup a healthy start in life. This complete and balanced diet helps build strong bones and joints, while an exclusive blend of antioxidants and minerals supports their developing immune systems and keeps their bodies growing strong. Its exclusive kibble design encourages your pup to chew their food thoroughly. And highly digestible proteins and prebiotics help your dog break down and absorb nutrients for healthy digestion and optimal stools.