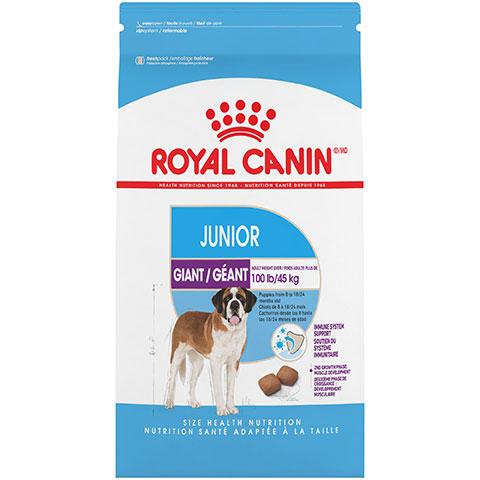 Royal Canin Size Health Nutrition Giant Junior Dry Dog Food
Your giant puppy is destined for big things-and as they grow, they have big nutritional needs. Giant breed dogs have the longest growth period out of other sized dogs-that's why Royal Canin growth formulas for giant-sized dogs come in two stages: Giant Puppy and Giant Junior. This Giant Junior dry dog food diet is made specifically for that second stage of growth. At around 8 months, they start to fill out their long and lanky body, developing muscles to support their large frame long into adulthood. What you feed them now sets them up for a healthy, happy life as an adult.
Royal Canin Giant Junior is a nutrient-dense diet formulated for your puppy's healthy growth: Adapted protein levels and added L-carnitine help build strong muscles. Balanced energy content and precise amounts of calcium and phosphorus support healthy bones and joints. Highly digestible proteins and prebiotics promote healthy digestion and optimal stool quality. Key antioxidants and minerals support developing immune systems to help your dog keep growing strong. Transitioning from Royal Canin Giant Puppy to Giant Junior is easy, because both formulas have an exclusive kibble designed specifically for these growing dogs' large jaws, so they chew their kibble thoroughly. With the targeted nutrition of Royal Canin, your lovable giant can grow up and live their best, most magnificent life.