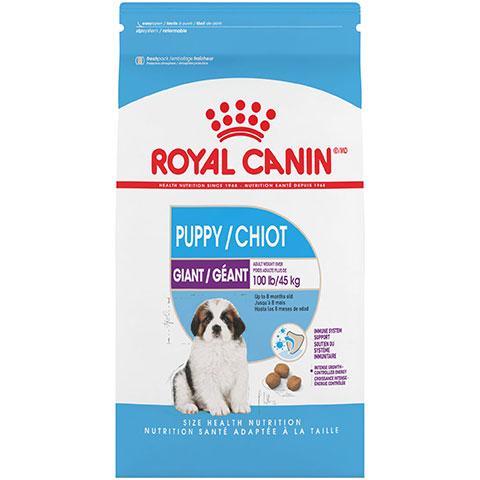 Royal Canin Size Health Nutrition Giant Puppy Dry Dog Food
Your giant puppy is destined for big things-and as they grow, they have big nutritional needs. Giant breed dogs have the longest growth period out of other sized dogs-that's why Royal Canin growth formulas for giant-sized dogs come in two stages: Giant Puppy and Giant Junior. This Giant Puppy dry dog food is made specifically for the first stage (up to 8 months). As they grow in size, their bones and joints are building a foundation for their giant frame. What you feed them now sets them up for a healthy, happy life as an adult.
Royal Canin Giant Puppy dry dog food is targeted nutrition made for your lovable giant. Its precise calcium and phosphorus content helps promote strong bones and joint health, while key antioxidants and minerals support their developing immune systems and keep their bodies growing strong. Highly digestible proteins and prebiotic ingredients also help break down food while promoting healthy digestion and optimal stools. This exclusive kibble is designed specifically for your growing dog's large jaw to help them chew their kibble thoroughly.