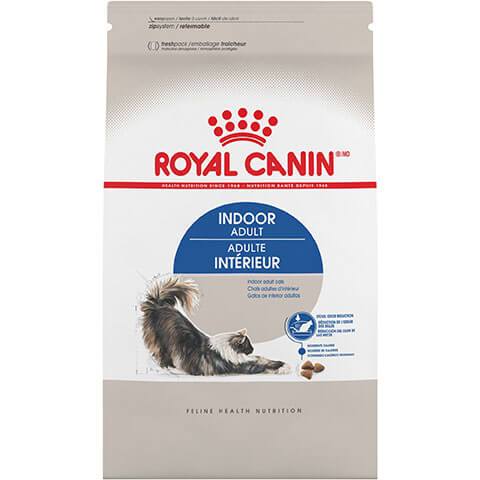 Royal Canin Feline Health Nutrition Indoor Adult Dry Cat Food
A lack of exercise may lead to a slower intestinal transit which can result in smelly stools. INDOOR ADULT is formulated with highly digestible protein (L.I.P.*), an appropriate fiber content and specific nutrients to promote good digestion and help reduce the quantity and odor of stools.
*L.I.P.: protein selected for its very high digestibility.
Cats chose this Royal Canin diet first over comparable diets by leading competitors.**
Stool Odor Reduction
Moderate Calorie
Manages Hairballs
L.I.P. Digestive Science Innovation
100% Complete and Balanced Nutrition
100% Satisfaction Guaranteed
Complete and balanced nutrition formulated for the specific nutritional needs of indoor adult cats.
**Cats chose the featured Royal Canin diets first over comparable diets by leading competitors. Leading competitors based in part on data reports by Nielsen through Scantrack Service for the Cat Food category for the 52 week period ending 8/5/2017, for the Total US market and Pet Specialty channel, according to the Royal Canin product hierarchy.