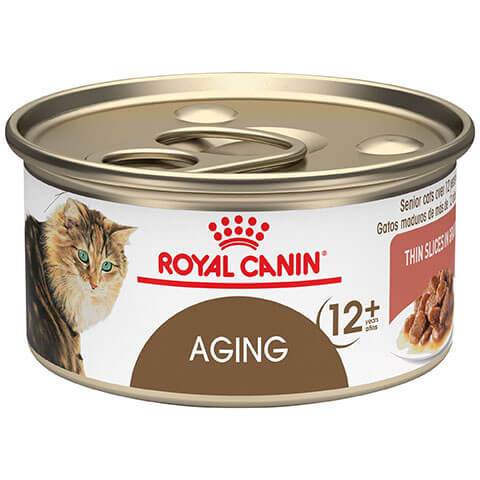 Royal Canin Feline Health Nutrition Aging 12+ Thin Slices In Gravy Canned Cat Food, 24/3 oz
FELINE HEALTH NUTRITION wet canned formulas are designed around a cat's nutritional needs and instinctive preferences. Royal Canin's cat food formulas were created with the optimal balance between proteins, fats and carbohydrates to support long-term palatability and work as the perfect nutritional complement to our premium dry cat food.
Helps maintain healthy joints with omega-3 fatty acids (EPA and DHA)
Instinctively preferred nutritional profile Formulated to match the optimal Macro Nutrient Profile instinctively preferred by aging cats
AGING 12+ is formulated with a controlled phosphorus content to help support healthy aging
100% Complete and Balanced Nutrition
100% Satisfaction Guaranteed
ROYAL CANIN FELINE HEALTH NUTRITION AGING 12+ Thin Slices in Gravy is formulated exclusively for cats over 12 years old.