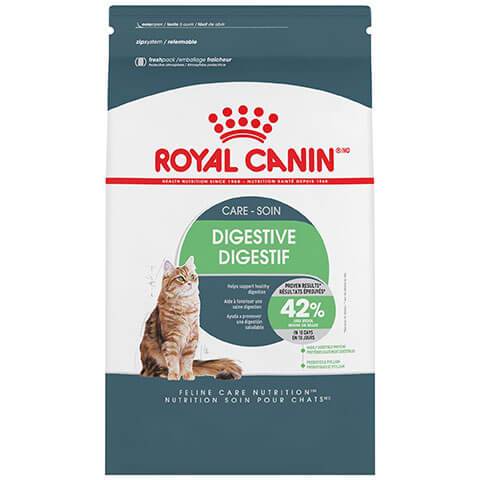 Royal Canin Feline Care Nutrition Digestive Care Dry Cat Food
A sensitive stomach and digestive tract may result in a large quantity of poor quality stool, which can be indicative of poor digestion. Additionally, swallowing too quickly without sufficient chewing can lead to regurgitation. Royal Canin supports the health of your cat by providing tailor-made nutrition based on a true understanding of the cat's specific needs and over 45 years of science and observation.
Effective after 10 days, with 42%* less stool production
Precisely balanced nutritional formula that helps support digestive health
Highly digestible proteins, prebiotics, and dietary fibers
Ring-shaped kibble helps the cat eat slowly and chew thoroughly for healthy digestion
100% Complete and Balanced Nutrition
100% Satisfaction Guaranteed
*Compared to leading widely-distributed complete and balanced adult cat formula.
DIGESTIVE CARE is formulated exclusively for adult cats to help support healthy digestion.